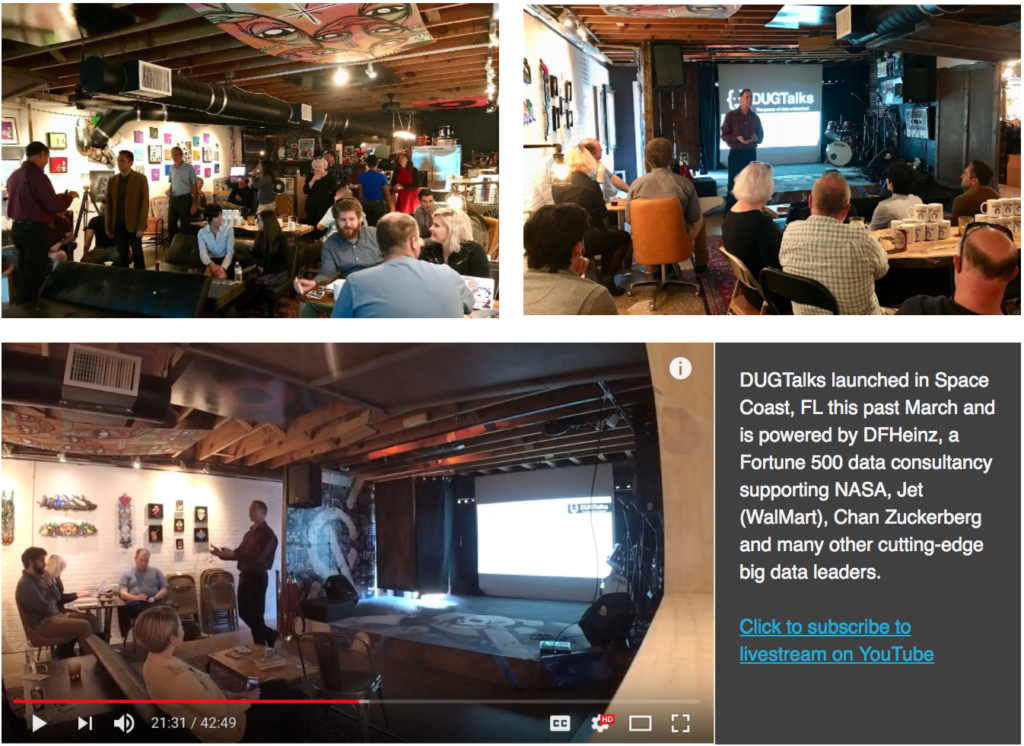 Imagine if you could save high tech companies time (years) and money (millions) by understanding how data management best practices evolve at any given moment.
Powered by DFHeinz and sponsored by Purple, Rock, Scissors, Data User Group (DUG) Talks, connect subject-matter experts across the globe with enterprises who seek to build better requirements and generate value from their data today. These free talks serve to debunk the myths behind pervasive one-size-fits-all data support services.
What: Data User Group Talks, Orlando Edition
Where: Purple, Rock, Scissors 189 S Orange Ave #2020, Orlando, FL 32801
Why: Get the tools required to compete in the big data market
Cost: Free
A livestream of the event will be available on YouTube. Sign up below for location details and an invitation to our Slack Channel, a platform enabling an ongoing dialogue with leaders who are leading big data initiatives across the globe.
Each DUGTalk workshop will explore how it is that Fortune 500 companies and government agencies are leveraging open source projects to cut licensing fees by more than 80 percent and get products to market within a few short months, rather than years.
Founder of the series, Daryl Heinz, says he aims to mobilize a grassroots movement of people who want to grow their subject-matter expertise and develop the highest performing, cutting-edge data solution for any use case. He adds that each talk will look beyond the buzzwords of big data, IoT, artificial intelligence and machine learning to repurpose existing open source solutions and apply them to specific enterprise use cases.
Use cases include: online streaming, data warehousing, batch analysis, security, machine learning and artificial intelligence.
"What it takes to get to the cloud is humility," Heinz said. "Or, the acceptance that subject-matter experts across the world have already crowdsourced a solution to your big data problem. And it's available online for free. We'll show you how to both adopt and secure it."
Orlando Schedule, Third Week of Ea Month (Tuesday)
May 15th DUG Talk ft. Launch Event Workshop, 6:15 to 7:15PM
DUGTalks launched in Space Coast, FL this past March and is powered by DFHeinz, a Fortune 500 data consultancy supporting NASA, Jet (WalMart), Chan Zuckerberg and many other cutting-edge big data leaders. This event will take place the third week of Ea Month (Tuesday) in Orlando. Future host locations to be announced at dfheinz.com/orlando.
Click to subscribe to livestream on YouTube
For job placement opportunities or anyone interested in attending in-person sessions in Orlando and Melbourne, FL, visit www.dfheinz.com, @DUGglobal on Twitter, or call 321-405-5008.